The best ATV bikes in India are manufactured by brands such as Polaris, Phoenix Moto Corp, Powerland etc. These bikes are available at an affordable price and come with a warranty of up to 3 years. Lets look at the ATV bike price in India along with their powerful features.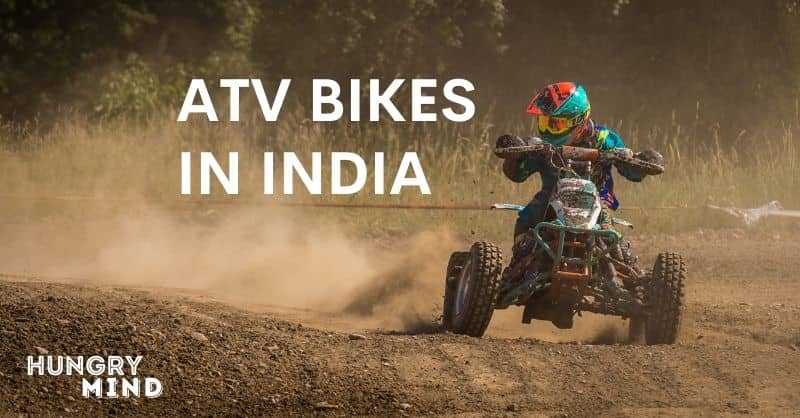 ATV bikes are also called as Quad Bikes and they are known for their reliable performance in rugged terrains. In India, ATV bikes are found mainly in tourist places in Goa, Himachal Pradesh, Uttarakhand, Rajashthan, etc.
ATV vehicle in india is not legal for driving on roads and one cannot register their ATV vehicle through RTO. However you can drive your ATV on Private Lands, Racing Tracks, and Farms.
In tourist places such as Goa or Himachal Pradesh, you can rent an ATV bike on a timely basis, usually for an hour or two.
There are many ATV bike manufacturers globally, but the demand in India is comparatively less. You might be wondering which ATV bikes in India are popular and the average price of an ATV vehicle in India. Let's look at the top 5 ATV bikes in India, along with their price.
Polaris Phoenix 200
Pheonix 200 from Polaris India is one of the best ATV bikes for kids having 193cc performance, an automatic PVC transmission and a 7" front/6.5" rear of long-travel suspension for ease of driving in rugged terrains. Polaris Youth Helmet is also included with the vehicle. This ATV vehicle also comes with a training DVD by certified Polaris Trainers for beginners to educate young drivers.
Features of Polaris Phoenix 200:
Engine Type: 4 Stroke Single Selector
Front Suspension: Dual A-Arm with 17.8 cm Travel
Rear Suspension: Swingarm with 16.5 cm Travel
Front / Rear Brakes: Front Hydraulic Disc, Rear Mechanical Drum (Independent front/rear brake levers plus rear foot brake)
Parking Brake: Lockable Hand Lever
Fuel Capacity: 9.5L
Estimated Dry Weight: 188 Kg
Ground Clearance: 14.5 cm
Vehicle Size: 165.1 x 106.7 x 106.7 cm
Wheel Base: 114.3 cm
Engine Displacement (cc): 196cc
Mileage: 10 kmpl
Fuel System: Carbureted
Drive System Type: 2 WD
Cooling: Air
Wheels: Stamped Steel
Lighting: Single Hi/Low Headlight, Single Rear Brakelight / Taillight
Price: ₹5 Lakhs
Visit the Official Polaris India Website for more details of Polaris Phoenix 200
Powerland 900D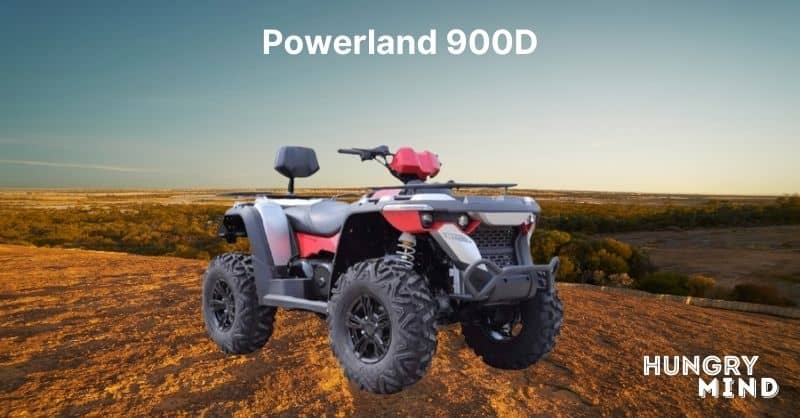 Powerland 900D is the only ATV vehicle legally registered for driving on roads in India. Not exactly one can drive this ATV bike on-road, but it can be registered as a tractor vehicle which comes with the white number plate, making it legal to drive on roads. Also, there is no compulsion of wearing a helmet while driving a Powerland 900D ATV bike.
Features of Powerland 900D:
Engine Displacement: 800cc
Engine: V Twin, Liquid Cooled, Diesel
Fuel: Diesel
Cooling System: Liquid Cooling
Top Speed: 45 kmph
Front Brake: 4-Wheel Hydraulic Disc with Dual-Bore Front Calipers
Vehicle Size: 230 x 130 x 120 cm
Vehicle Weight: 410 kg
Fuel Tank Capacity: 14 L
Front Suspension: Macphersan
Rear Suspension: Twin A-ARM Indepdent Suspension
Price: ₹3.75 Lakhs
Visit the Official Website of Powerland ATV for more details of Powerland 900D
Phoenix Moto Corp Falcon 250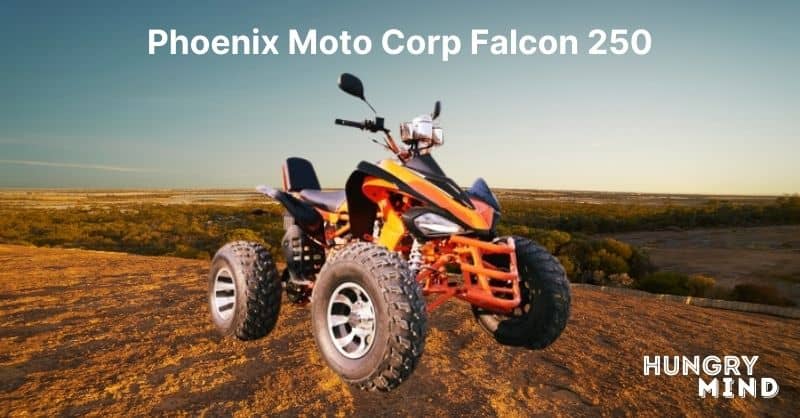 Phoenix Moto Corp ATV bikes are new-age ATV Bikes suitable for all-weather driving. Phoenix Falcon 250 is used in many tourist places in India. The overall performance of the Phoenix Falcon 250 is remarkable.
Features of Phoenix Moto Corp Falcon 250:
Engine Displacement: 250 cc Engine with balance haft , Single Cylinder, 4 Strokes
Cooling: Air
Vehicle Size: 194 x 115 x 137 cm
Max Speed: 80 km/h
Vehicle Weight: 160 kg
Starting System: Electric Start
Bore & Stroke: 69/60.8 mm
Frame: Shock-Proof Frame
Wheel Base: 142.0 cm
Seat Height: 89 cm
Ground Clearance: 18 cm
Gear System: 1F/N/1R, Automatic Transmission
Final Drive: 530 Bold Chain Drive
Brakes: Front and Rear Hydraulic Disc Brakes
Price: ₹2.15 Lakhs
Read More about Phoenix Moto Corp Falcon 250 ATV bike here.
Gapuchee Viper ATV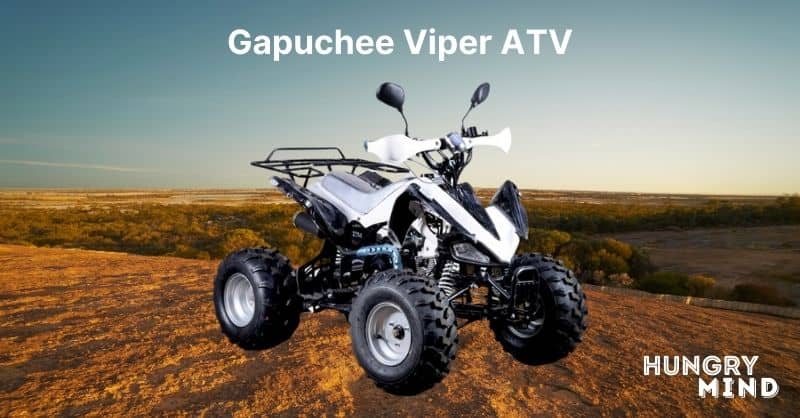 Gapuchee Viper ATV has bike price in India, which is budget-friendly, and this ATV Vehicle is Suitable for beginners. It is a Lightweight ATV vehicle compared to other automobiles ATV's in India. Gapuchee Viper ATV comes in five colours: Blue, Orange, Red, White, and Yellow.
Features of Gapuchee Viper ATV:
Engine Displacement: 110cc, air-cooled, single cylinder, 4-stroke
Drive System: Semi Automatic (1 Front + 1 Rear Gears)
Starting System: Electric Self Start
Brakes: Drum/ Hydraulic Disk (Front & Rear)
Transmission: Chain
Fuel Capacity: 2.8 L
Vehicle Size: 145 x 84 x 102 cm
Net Weight: 82 kg
Gross Weight: 94kg
Max Speed: 65km/h
Max Weight Capacity: 120kgs
Mileage: 30kmpl
Price: ₹75,000
Visit the official website of Gapuchee for more details about Viper ATV
Polaris SPORTSMAN XP 1000
Polaris Sportsman XP 1000 is one of India's most powerful and advanced Trail ATVs. The vehicle is power-packed with modern features suitable for all-weather off-roading.
Features of Polaris Sportsman XP 1000:
Front Display: 7″ Touch Screen Display with Ride Command
Horsepower: 90 HP
Cooling: Liquid
Engine Type: ProStar SOHC 4-Stroke Twin Cylinder
Drive System Type: One Touch On-Demand AWD/2WD
Vehicle Size: 211.4 x 120.9 x 128.9 cm
Seat Height: 94 cm
Estimated Dry Weight: 402 kg
Fuel Capacity: 19.9 L
Wheels: 35.6 cm Aluminium
Lighting: LED POD, LED Headlights, Dual LED Brakelights/Taillights, Rear Work Light
Front / Rear Brakes: Single Lever 4-Wheel Hydraulic Disc with Hydraulic Rear Foot Brake.
Parking Brake: Park In-Transmission / Lockable Hand Lever
Top Speed: 75mph
Price: ₹18.9 Lakhs
Visit the official website of Polaris for more details on Polaris Sportsman XP 1000
These were the top 5 ATV bikes in India that you can buy in India as a beginner or for your travel agency. Every bike has its segment of features and usage. There is also the Powerland 300D which is a legal ATV Vehicle for roads, but ideally, one should drive ATV vehicles off-roads.
READ MORE
Which Bike Should a College Student Buy? New or Used?
How to become a freelancer in India and earn a monthly income?